JUMP TO
| Friends of Sri Lanka Project | Havasupai Tribe Project |
| Former Soviet Union Project | Sri Lanka Peace Project |
Sri Lanka Peace Project

- click here for the photo gallery -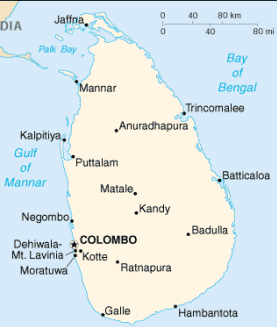 For the past 25 years singer/songwriter, educator, and advocate Ruth Pelham and her Music Mobile have been bringing songs of community, self respect, peace, and understanding to the children of the Capital Region. With her colorful van stocked full of crafts and various instrument making materials, Ruth cruises the city streets scooping kids up from all over the area. What typically ensues is an afternoon filled with singing children, beating drums and other eclectic instruments in celebration of themselves and their new found friends. Along with the fun and music making also comes the more lofty goal of community building and the bringing together of peoples from all walks of life. Ruth describes this as a process of self-discovery. The children, while interacting and performing as a group, come to the realization that they are no longer an "I" but a "we". Without having to "plant" the idea Ruth achieves community building through fun. This way, the children discover the "we" themselves and it tends to make a greater impact because they came to the conclusion themselves. Last August marked the Silver Anniversary of Music Mobile. It also marked the beginning of an amazing voyage for Ruth and her Organization. Music Mobile was to embark on a journey that would prove to reinforce all of the ideas and concepts they have been developing here in the Capital Region for the past quarter century.
It all began two years ago at a conference for Global Healing. Ruth was presenting information about the efforts of Music Mobile in the Capital Region and Charika Marasigne and Sadeeva, both daughters of of Dr. Ariyaratne, were presenting information on their Organization, Sarvodaya. Sarvodaya is described as a " people's development movement." Founded in 1958, Sarvodaya has brought grass-roots initiative, involvement, and development to thousands of people in the small island country of Sri Lanka. According to Ruth, "it was love at first site". The three women kept in touch and when Dr. Ariyaratne invited Ruth to bring the teachings of Music Mobile to Sri Lanka she could not say yes fast enough.
The invitation was two fold. First, Ruth, along with twenty-five children (mostly selected from Sarvodaya's group homes) and adult representatives of the Sarvodaya Legal Services Movement would embark on a month long tour of the war-ridden country, singing songs of peace and community. Second, accompanied by 1250 children from the poorest villages of Sri Lanka, Ruth was invited to sing at the World Children's Day on October 1st. The children of Sri Lanka were encouraged to submit essays on the subject of "The Responsibility of Scientists in the 21st Century to the Children of the World." The essays were then compiled into a "Children's Declaration" which would be presented to the President of Sri Lanka and a panel of illustrious scientists and intellectuals at the World Children's Day celebration. On September 5,2002 Music Mobile and its mission of peace and community development took to the sky.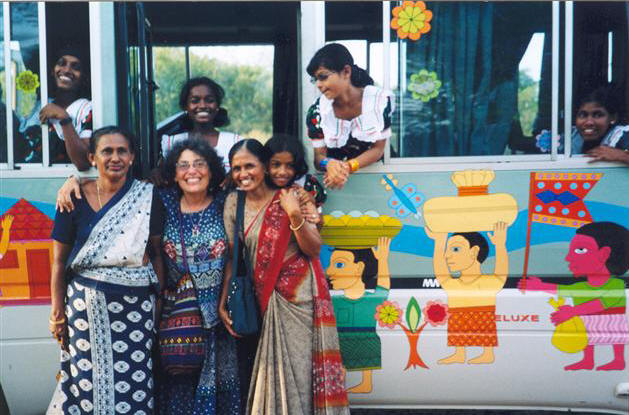 Upon arrival in Sri Lanka Ruth was greeted by a beautifully painted bus (since she could not bring the van along), the children of Sarvodaya, and Dr. Ariyaratne and his family. After a few short days of preparation, Ruth, with guitar in tow, boarded the Sri Lankan "music mobile" with the rest of the group. The group traveled from village to village stopping for hours at a time to sing and perform for crowds of village people. Traveling into the northern part of the country where you could not veer off the road for fear of landmines was a real "eye opening experience" said Pelham. "Living in the United States and reading about the civil war in Sri Lanka is one thing but driving up the long road to Jaffna where the majority of the violence has occurred was entirely another. It is no longer in the abstract, it is real and right in front of you". Ruth described an encounter to me that she had with a man and his baby along the road to Jaffna. She said they were waiting at a military check point and it was incredibly hot so she got out of the van for some air and saw, "this beautiful man holding this beautiful baby" and although she could not speak the language with much ease she could not help but approach him and tell him what a lovely baby he had. She explained to him that she was a musician by motioning to her guitar and gave him one of her cassettes. He beckoned her to their car where his wife was sitting in the front seat with dark glasses over her eyes. She had been blinded by an explosion. Ruth expressed to me her feelings at that moment. How sad she was to think that this mother would never be able to see her beautiful child again.That moment was so profound and reconfirmed for her that what she was doing with Music Mobile, and what Sarvodaya was doing was absolutely vital in today's society.
Ruth plans to invite Dr. Ariyaratne and his family to visit Albany and hopes to develop an exchange program between the two countries. She also would like to extend the invitation to any families of Sri Lankan descent to contact her so that she can develop a better connection with the community here in the Capital Region. If you would like to contact Ruth you can do so by calling the Music Mobile office at 518.462.8714 or by email at MusicMo@aol.com. More information on Sarvodaya and how you can help them in their efforts to create a better living situation for the people of Sri Lanka can be found on their website at: www.sarvodaya.org.
- click here for the photo gallery -
JUMP TO
| Friends of Sri Lanka Project | Havasupai Tribe Project |
| Former Soviet Union Project | Sri Lanka Peace Project |