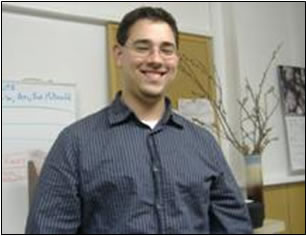 Josh Okun is twenty-three years old and lives in
Rensselaer, NY. His career at Music Mobile began in 2003 when he worked as a summer program staffer and
seasonal office assistant during college vacations.
In 2006, Josh graduated from the State University of New York at Oneonta with a B.A. in Music Industry. Through various business and music courses, he developed skills in marketing, management, business law, and communications as well as music theory, composition, and recording engineering.
Prior to graduation, Josh completed an internship in New York City at StarPolish
Management, a company that promotes and develops the careers of new and established musicians. His responsibilities included tour research, analysis, marketing, and promotion for the artists, and office support for the company.