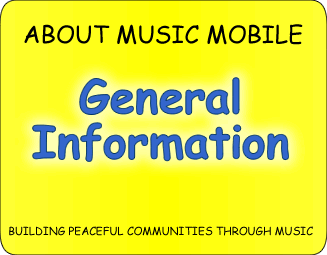 What is Music Mobile?
Music Mobile is a not-for-profit organization that presents year-round concerts, workshops, residencies, cultural exchanges, and special projects in conjunction with schools, parks and playgrounds, libraries, community agencies, nursing homes, senior centers, and festivals. Music Mobile also provides keynotes, lectures, and training and professional development programs for parents, educators, students, and human services staff, and develops and distributes educational books, recordings, calendars, board games, and training materials.
What is Music Mobile's mission?
Music Mobile's mission is to foster cooperation, tolerance, understanding, community pride, and local and global responsibility. Music Mobile strives to enrich the quality of life for individuals and communities, and to serve as a catalyst for cultural understanding and social transformation. (more)

Who does Music Mobile serve?
Music Mobile serves people of all ages but with a particular focus on the education, development, socialization, and artistic expression of children and youth. Music Mobile serves individuals, organizations, schools, municipalities, and businesses, and works with numbers of people that range in size from small groups to audiences of thousands.
Where do Music Mobile's programs and services take place?
Music Mobile's programs are local, regional, national, and international in scope, with most programs taking place in and surrounding the Capital Region of New York state.

Who directs Music Mobile?
Since its inception in 1977, Music Mobile has been directed by its founder, Ruth Pelham who is a nationally recognized educator, performer, songwriter, song-leader, author, and peace advocate whose work in community arts and education has touched millions of lives around the world. Music Mobile is operated by its Board of Directors, and is staffed by full and part-time employees and volunteers.

How is Music Mobile funded?
Music Mobile is funded through public and private grants, contributions from individuals and businesses, program fees, and revenue from special events and merchandise sales.

How many people does Music Mobile serve annually?
Music Mobile annually serves 10,000 – 12,000 people of all ages and backgrounds.